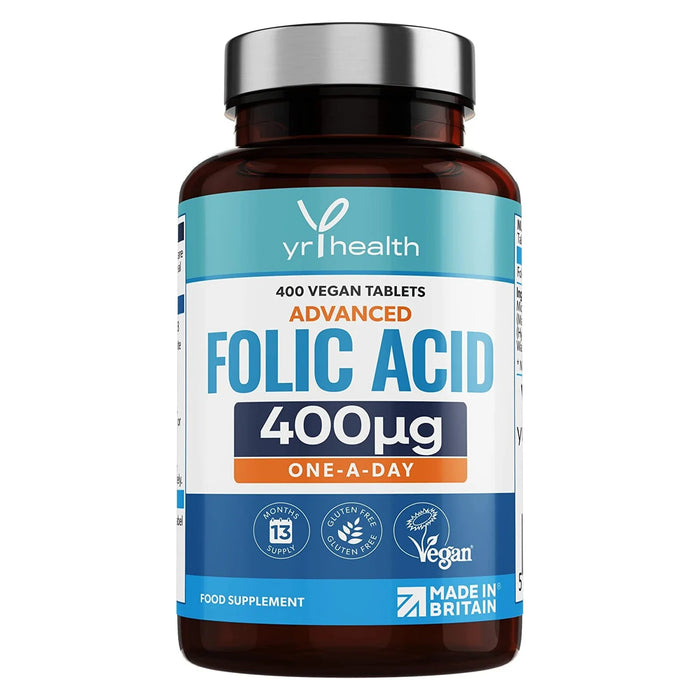 Folic Acid 400 mcg Tablets - 400 Vegan Vitamin B9 Tablets for Women, 13 Month Supply, Folic Acid Pregnancy for Normal Function of Immune System and Maternal Tissue Growth
About this item
✔︎ WHY USE OUR FOLIC ACID PILLS?: Using high quality ingredients that have been manufactured to the best standards and registered with the Vegan Society, our 13 Month supply folic acid tablets are perfect for women to take during pregnancy. Also known as vitamin B9, Folic acid is a form of folate, which is a naturally occurring vitamin. Folate supplements and pregnancy vitamins by YrHealth.

✔︎ THE PREGNANCY CARE SUPPLEMENT: For the healthy development of the foetus it is recommended supplementing folic acid which increases maternal folate status. According to the European Food Standards Authority, they have a substantiated claim that Folate contributes to maternal tissue growth during pregnancy. That is why our government recommends it's important to take a 400 micrograms folic acid tablet every day before you're pregnant and until you're 12 weeks pregnant.

✔︎ HUGE HEALTH BENEFITS TO BOTH WOMEN AND MEN: Folate contributes to normal psychological function, normal blood formation and normal function of the immune system. In addition, folate contributes to the reduction of tiredness and fatigue and has a role in the process of cell division. These claims re substantiated by the European Food Standards Authority. With these benefits you can see that our Folic Acid tablets are more than pre pregnancy vitamins for women.

✔ THE VEGAN SOCIETY REGISTERED PRODUCTS ONLY: ALL our products go through the strict assessment with The Vegan Society to ensure that our supplements are vegan friendly for your continued peace of mind. Just look for the Vegan Society Logo displayed on products if at all you are unsure as to whether they are truly for Vegans or Vegetarians. Our product is free from allergens, preservatives, nuts, artificial colours or flavourings, gluten, wheat, lactose, added sugar or salt, milk, fish and GMO.

✔ MANUFACTURED IN THE UK TO THE HIGHEST STANDARDS: We are members of Made in Britain. Every YrHealth product is manufactured right here in the UK, and to the very highest standards. The manufacturing facility for our products operate to the GMP standards, having gained BRC accreditation grade A for global food standards. The experienced laboratory team are on point with the very latest regulations and standards regarding the development of vitamin and supplement products.
Safety Information:
Not intended for use by persons under the age of 18
Food supplements should not be used as a substitute for a varied and balanced diet and healthy lifestyle
Always consult your Healthcare Practitioner before taking food supplements
If you are pregnant, planning to become pregnant, breastfeeding, taking any prescription medication or have a medical condition consult your Healthcare Practitioner before taking this product
In the event of an adverse reaction discontinue use and contact your Healthcare Practitioner immediately
Ingredients: 
Folic Acid, Bulking Agents (Dicalcium Phosphate, Microcrystalline Cellulose), Anti-Caking Agents (Magnesium Stearate, Silicon Dioxide), Glazing Agents (HydroxyPropylMethylCellulose, Glycerin, Carnauba Wax)
Directions:
Take 1 Tablet per day or as directed by your Healthcare Practitioner with food and water
Do not exceed the recommended amount