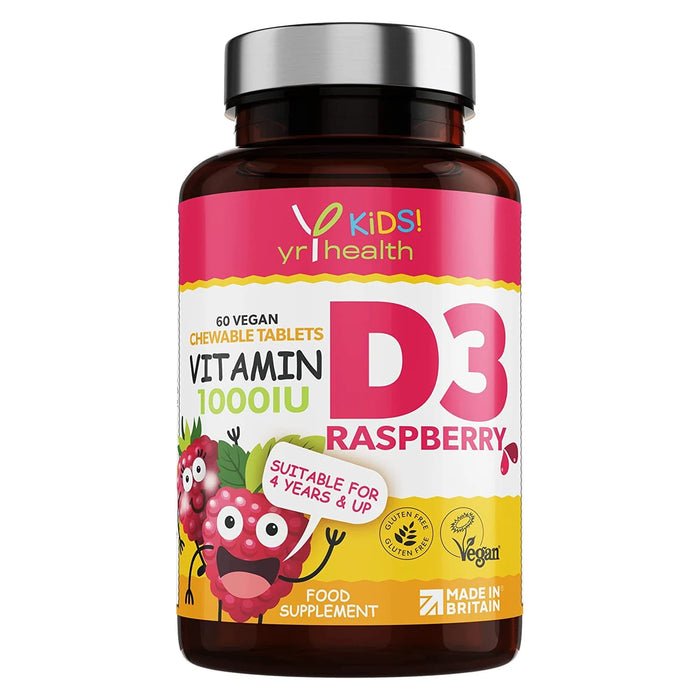 Kids Vitamin D3 1000 iu High Strength - Chewable Raspberry Flavour Vitamin D for Kids 4-12 Years, Vegan Society Registered Tablets not Gummies - 2 Months Supply
About this item
✔ AMAZING TASTING SUPPLEMENTS FOR KIDS: We have taken our time to develop our own NATURAL Raspberry flavoured vitamin D3 for children that has zero aftertaste or unpleasant texture. The tablets stay together without breaking in the bottle like other brands. As parents we knew how fussy kids can be with flavour. Getting the taste exactly right was the most important aspect for us when developing a children's D3. Now there is a vitamin that kids look forward to every morning.
✔ THE REAL BENEFIT OF VITAMIN D FOR YOUR CHILD: As your child grows it is vital that they introduce the correct nutrients into their balanced and diversified diet. Vitamin D is one of those important micronutrients that is essential for general health. Vitamin D contributes to the normal function of the immune system and healthy inflammatory response. Vitamin D also to the maintenance of normal muscle function. Claims are substantiated by EFSA (European Food Standards Authority).
✔ WHAT ABOUT BONES AND TEETH?: The European Food Standards Authority has conducted scientific studies to show a cause and effect relationship has been established between the dietary intake of vitamin D and maintenance of normal bones and teeth. It is important that your child incorporates vitamin D into their diet as it also contributes to normal absorption/utilisation of calcium and phosphorus and maintenance of normal blood calcium concentrations. Claims Substantiated by EFSA.
✔ THE VEGAN SOCIETY REGISTERED PRODUCTS ONLY: ALL our products go through the strict assessment with The Vegan Society to ensure that our supplements are indeed vegan friendly for your continued peace of mind. Just look for the Vegan Society Logo displayed on products if at all you are unsure as to whether they are truly for Vegans or Vegetarians.
✔ MANUFACTURED IN THE UK TO THE HIGHEST STANDARDS: We are members of Made in Britain. Every YrHealth product is manufactured right here in the UK, and to the very highest standards. The manufacturing facility for our products operate to the GMP standards, having gained BRC accreditation grade A for global food standards. The experienced laboratory team are on point with the very latest regulations and standards regarding the development of vitamin and supplement products.

Safety Information:
Not intended for use by persons under the age of 18
Food supplements should not be used as a substitute for a varied and balanced diet and healthy lifestyle
Always consult your Healthcare Practitioner before taking food supplements
If you are pregnant, planning to become pregnant, breastfeeding, taking any prescription medication or have a medical condition consult your Healthcare Practitioner before taking this product
In the event of an adverse reaction discontinue use and contact your Healthcare Practitioner immediately
Ingredients:
Vegan Vitamin D3 (Cholecalciferol) (Corn Syrup, Arabic Gum, Medium Chain Triglycerides, Silicon Dioxide, Sodium Ascorbate, Tocopherol Rich Extract), Flavouring Agents (Natural Raspberry Flavour Powder (Maltodextrin, Silicon Dioxide), Citric Acid, Sugar), Anti-Caking Agents (Magnesium Stearate, Silicon Dioxide), Bulking Agent (Microcrystalline Cellulose) 
Directions:
Take 1 tablet per day or as directed by your Healthcare Practitioner with food and water.
Do not exceed the recommended amount