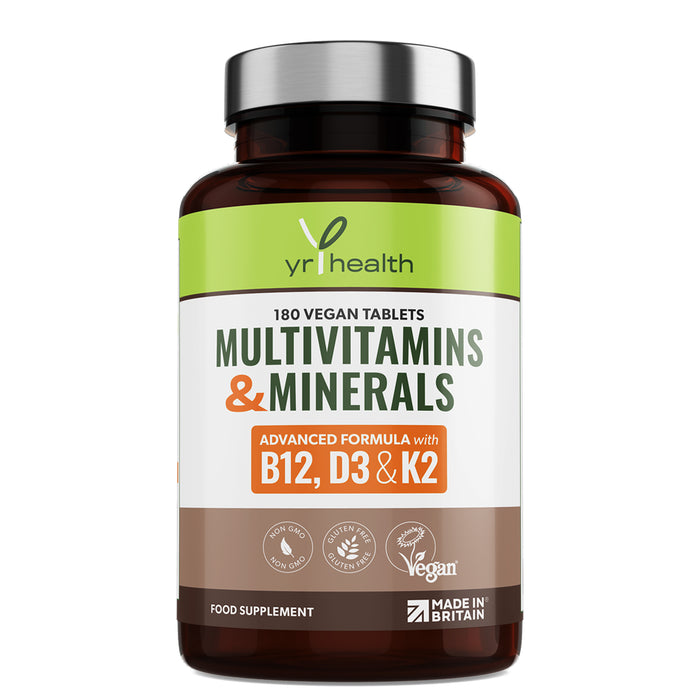 Advanced Vegan Multivitamins & Minerals High in B12, D3 with Added Vitamin K2 - 180 Tablets
Our Vegan Multivitamin and Minerals tablets are made with the plant-based diet in mind. The Vegan Society Registered with high strength Vitamin B12 at 2000% NRV you can help keep that B12 deficiency at bay and encourage the reduction of tiredness and fatigue.
The Vegan Society is a British educational charity founded in 1944 that works to promote veganism by supporting people, organisations and companies wanting to commit to a vegan lifestyle.

For more information about The Vegan Society, please visit www.vegansociety.com
Our B12 is from Methylcobalamin which is the natural form rather than the synthetic Cyanocobalamin. Each tablet is incredibly easy to swallow despite being crammed full of 22 vitamins and minerals. This is due to our unique tablet coating not present on many other vitamins.
Providing correct nutrients to help maintain normal physiological functions. These include: the reduction of tiredness & fatigue; maintenance of normal immunity; maintenance of normal bones, teeth, hair and skin and maintenance of normal muscle function.

Our formulation is research based
The European Food Safety Agency (EFSA) confirm both vitamin K2 and D3 are needed for the synthesis of osteocalcin (calcium-binding protein) in the osteoblasts (Cells that create new bone). Taking vitamin D3 can cause calcium build up in areas of the body that it is not wanted which can affect health. You will always see K2 with D3 in our products.
While following a Vegan diet, it is important the following vitamins and minerals
are included
.
Vitamin B12
Calcium
Vitamin D
Iodine
Selenium
Iron
Zinc
Vitamin K
Vitamin A
Our multivitamin and mineral supplement includes these and many more. See the full breakdown of vitamins and minerals:
Vitamin A, Vitamin D, Vitamin E, Vitamin K2, Vitamin C, Vitamin B1, Vitamin B2, Niacin, Vitamin B6, Vitamin B12, Folic Acid, Biotin, Pantothenic Acid, Calcium, Magnesium, Iron, Zinc, Manganese, Selenium, Chromium, Molybdenum and Iodine
.

YES
High Strength

Made in the UK

Vegan

Easy to Swallow

NO

Allergens

Preservatives

Nuts

Artificial Colours or Flavours

Gluten

Wheat

Lactose

Added Sugar or Salt

Milk

Fish

GMO
Directions for Use:

Take 1 tablet per day or as directed by your Healthcare Practitioner with food and water

Do not exceed the recommended amount


Caution:
Not intended for use by persons under the age of 18

Food supplements should not be used as a substitute for a varied and balanced diet and healthy lifestyle

Always consult your Healthcare Practitioner before taking food

 

supplements

If you are pregnant, planning to become pregnant, breastfeeding, taking any prescription medication or have a medical condition consult your Healthcare Practitioner before taking this product

In the event of an adverse reaction discontinue use and contact your Healthcare Practitioner immediately

Storage:

For best before date and batch number see below

Keep out of reach of young children

Keep out of direct sunlight in a cool and dry place

Do not use if seal under cap is broken