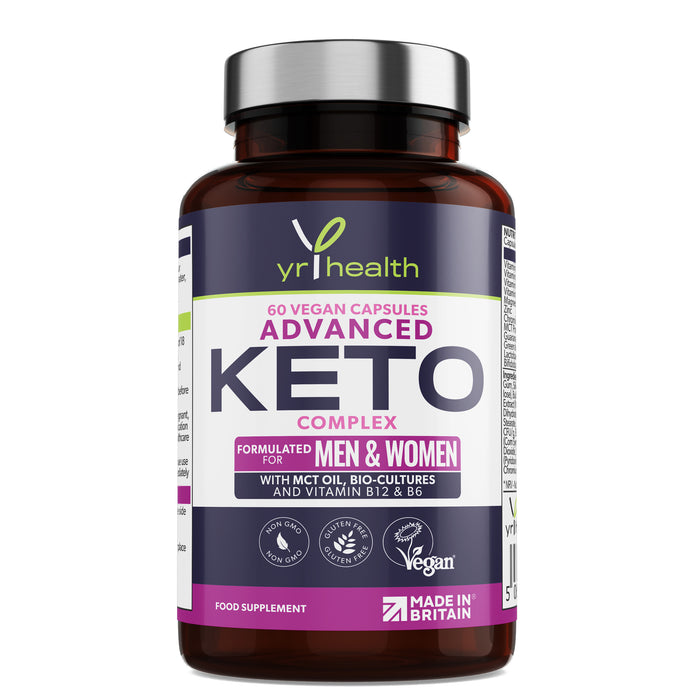 Advanced Keto Complex - Supporting your Diet - 60 Vegan Capsules
✔︎ WHY BUY OUR ADVANCED KETO COMPLEX ? – Developed with the Keto Diet plan in mind YrHealth offer the most complete advanced weight loss tablets on the market. Each capsule is incredibly easy to swallow and by taking 2 spaced over the course of the day will help you be at your best despite the calorie deficit from your diet. Designed purposely by our specialist for the Ketogenic diet this diet supplement will support the way the body metabolises fats and carbohydrates.


✔︎ THE BENEFIT? - Our Keto Complex enables your body to reach Ketosis fast and to start utilising fat for fuel. With Medium Chain Triglyceride powder, Green Tea Extract, Guarana Extract, rich in caffeine to pep you up, Probiotics for gut health, Vitamin B12 and Magnesium to reduce tiredness and fatigue, B6 for normal energy-yielding metabolism, Vitamin D and Zinc to contribute to a normal immune system. Plus, vitamin K2 and Chromium.


✔ QUALITY VEGAN INGREDIENTS – You can rest assured that every supplement we produce is vegan and made with the highest quality ingredient and standards. Our capsules are HPMC, a plant-based cellulose material approved for vegetarians and vegans. Our product is free from allergens, preservatives, nuts, artificial colours or flavourings, gluten, wheat, lactose, added sugar or salt, milk, fish and GMO.


✔ THE VEGAN SOCIETY REGISTERED PRODUCTS ONLY: ALL our products go through the strict assessment with The Vegan Society to ensure that our supplements are indeed vegan friendly for your continued peace of mind. Just look for the Vegan Society Logo displayed on products if at all you are unsure as to whether they are truly for Vegans or Vegetarians.



✔ MANUFACTURED IN THE UK TO THE HIGHEST STANDARDS - We are members of Made in Britain. Every YrHealth product is manufactured right here in the UK, and to the very highest standards. The manufacturing facility for our products operate to the GMP standards, having gained BRC accreditation grade A for global food standards. The experienced laboratory team are on point with the very latest regulations and standards regarding the development of vitamin and supplement products.
NO

Allergens

Preservatives

Nuts

Artificial Colours or Flavours

Gluten

Wheat

Lactose

Added Sugar or Salt

Milk

Fish

GMO



Ingredients:
Magnesium Oxide, Vegan MCT Powder (Arabic Gum, Silicon Dioxide), Capsule Shell (HydroxyPropylMethylCellulose), Bulking Agent (Microcrystalline Cellulose), Guarana 4:1 Extract (Maltodextrin, Caffeine, Caramel Colour), Zinc Citrate Dihydrate, Green Tea 12:1 Extract, Anti-Caking Agents (Magnesium Stearate, Silicon Dioxide), Lactobacillus Acidophilus 150 Billion CFU/g, Bifidobacterium bifidum 100 Billion CFU/g, Vitamin D3 (Cholecalciferol), (Corn Syrup, Arabic Gum, Medium Chain Triglycerides, Silicon Dioxide, Sodium Ascorbate, Tocopherol Rich Extract), Vitamin B6 (Pyridoxine Hydrochloride), Vitamin K2 (Menaquinone-7), Chromium Picolinate, Vitamin B12 (Methylcobalamin).
Directions for Use:


Take 2 capsules per day or as directed by your Healthcare Practitioner with a full glass of water, preferably with a meal.


Do not exceed the recommended amount
Caution:
Not intended for use by persons under the age of 18

Food supplements should not be used as a substitute for a varied and balanced diet and healthy lifestyle

Always consult your Healthcare Practitioner before taking food supplements

If you are pregnant, planning to become pregnant, breastfeeding, taking any prescription medication or have a medical condition consult your Healthcare Practitioner before taking this product

In the event of an adverse reaction discontinue use and contact your Healthcare Practitioner immediately
Storage:
For best before date and batch number see side of label

Keep out of reach of young children

Keep out of direct sunlight in a cool and dry place

Do not use if seal under cap is broken